Mold Remediation Services in Memphis, Tennessee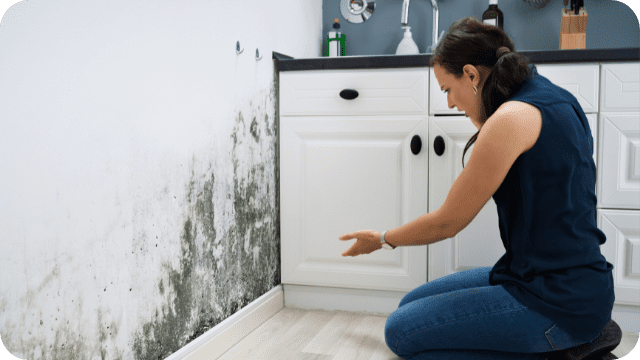 Mold spores are present in virtually every room. They can come in at the opening of a window, from your clothes, and can even be tracked in by pets. These microscopic spores are everywhere and are typically harmless until introduced to the proper conditions. Mold colonies are a direct result of these spores latching onto an organic object with moisture. From there, they can grow and spread in as little as 24 hours. United Water Restoration Group of Memphis, Tennessee technicians are highly trained and certified to remove any size mold colony. 
Mold colonies can spread quickly, so reacting quickly is recommended. United Water Restoration Group of Memphis, Tennessee is open 24-hours a day, 7 days a week. We can help you with mold remediation quickly and efficiently. During our mold remediation process, our technicians administer procurement treatments throughout your property to prevent future outbreaks. 
The first step to our mold remediation process is about contacting our service line at (901) 410-4466. This line can place you in direct contact with one of our certified technicians in a matter of minutes. Once contacted, our technician will go over the basics of your mold situation. Our technicians have a flexible schedule and can create an appointment based on your needs. Once on-site, our technician can carefully comb over your property to check for areas of visible and non-visible mold. They will create a comprehensive plan of action that showcases how we can return your property back to a state of normalcy.
Contact Memphis' Mold Remediation Experts
Once we agree upon conditions, our technicians can go in and begin our process of mold remediation. Upon our team's arrival, they will set up barriers to prevent spread and begin removing the mold colonies. After the mold is cleared, we set up high-powered fans and dehumidifiers to help dry up any excess moisture in the room. Once the moisture is removed, our technicians begin cleaning and sanitizing affected materials. During this part of the process, our technicians go through your property and deodorize affected rooms. Our technicians in Memphis, Tennessee can assist in preventing further outbreaks and help restore or replace affected and damaged items.
Read What Our Mold Remediation Customers Are Saying​
"This company did a great job for the price! The crew was professional, prompt and courteous. The owner's construction background helped me save money and headache of having to hire another contractor to do the wood and other construction work. It was such a relief to have the garage restored to its original condition with all the mold and odor gone. They called me to the next day to make sure I was happy. I will definitely use this company again and highly recommend them to others!!!"
"Great fast and efficient service. Results are top notch. Friendly nd knowledgeable crew. Hope you don't need them but if you do call them first."