Fire Damage Restoration Services in Memphis, Tennessee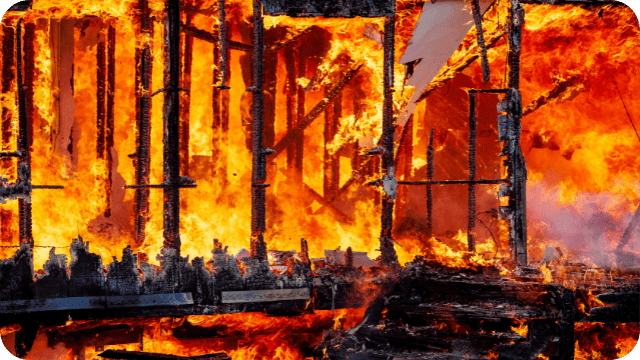 Fire damage can be ruinous. It can wreak havoc on any home or business, even in smaller instances. The effects of a fire can linger and stain a property far after the event subsides. Even in smaller cases, smoke damage can latch onto porous materials and cause lingering deterioration of the material as well as unpleasant scents. Smaller fires can also cause soot damage, a black, powdery material left when items are incompletely burned.
United Water Restoration Group of Memphis, Tennessee technicians are certified and highly trained to handle any level of fire damaging event. Whether you need help cleaning smoke and soot damage or major reconstruction, we can help. United Water Restoration Group of Memphis, Tennessee consists of an extensive network of certified professionals. This extensive network allows our technicians to play a role in every step of the fire damage restoration process. Our network in Memphis, Tennessee allows us to act as a one-stop shop for your fire damage restoration process.
While our technicians dispense our fire damage restoration services in Memphis, Tennessee, they will start by assessing the property and determine if emergency repairs are needed. Emergency repairs such as tarping and boarding up damaged windows will help prevent further damages from exposed elements. Once our emergency precautions are set up, our restorers begin by extracting any excess left. While you may not associate fire damage with water, the efforts to put out the fire typically involve water. Though the fire department can greatly assist in stopping the fire, they are unable to help clean up after their efforts. After we clear excess water, we can begin focusing on clearing debris. Once the debris is cleared, our technicians can begin sanitizing and cleaning affected areas of your property. Depending on the severity of the damage, our technicians can assist in reconstruction efforts in Memphis, Tennessee.
Contact Memphis' Fire Restoration Experts
United Water Restoration Group of Memphis, Tennessee can assist with every step of the fire damage restoration process. We can assist with insurance claims and help return your property back to its normal, pre-loss conditions.
Contact our team today to learn more about how we can make your restoration experience as seamless as possible!
Read What Our Fire Restoration Customers Are Saying​
"The team at UWR were always fast and efficient to service my needs. The staff is also very friendly and helpful. I would strongly recommend their service."
"Richard and his staff are great to work with. They really care about the customer."