Crawl Space Mold Remediation in Memphis, Tennessee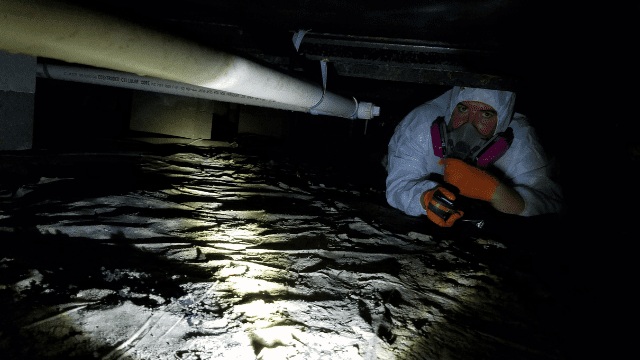 It's an unfortunate truth that when it comes to crawl spaces, property owners often forget about them until there is a reason to think about it. Sometimes a rodent has gotten inside, other times you need to access ductwork or investigate the foundation. 
There's another good reason to check your crawl space though, and that's to ensure you don't have a mold problem. Mold in crawl spaces is a fairly common property woe that owners will have to contend with at least once. 
However, with professional crawl space remediation, you can kiss mold goodbye. But what does crawl space remediation entail? Today United Water Restoration Group of Memphis, Tennessee would like to break it down briefly for our readers.
Inside Crawl Space Mold Remediation Step By Step
If you have reason to believe you have mold in your crawl space, or you have confirmed it, contact our team at (901) 410-4466. 
When you call, expect to speak with a trained team member who will ask you a few basic questions. Once your call is complete mold experts will be dispatched to your property to begin crawl space mold removal.
Inspection and Assessment
Once on the scene, our mold experts will begin to examine the premises, starting with the crawl space. 
Areas outside of the crawlspace but nearest to the mold infestation will also be inspected to make sure any spread of the mold is properly tracked. With our specialists and tools on-site, your crawl space mold remediation is about to begin.
To prevent any further spread of mold, affected areas will be isolated and contained through the use of a negative air method.
Through the use of high-powered vacuum systems and HEPA filters, airborne contaminants including mold spores are filtered from the air. This will restore the air quality to safe levels.
Mold-infested areas undergo extensive antifungal and antimicrobial treatments to combat existing mold and prevent future mold reformation.
To finish up your crawl space mold remediation, any materials that were damaged by the mold infestation will be replaced. This will bring the crawl space remediation to a close, and you're officially mold-free.
Contact Us Today
When you find yourself in need of crawl space mold remediation, contact the professionals at United Water Restoration Group of Memphis, Tennessee using our service number (901) 410-4466. 
We're available 24/7 to take your call, and we're ready to help you tackle any mold problems that come your way.